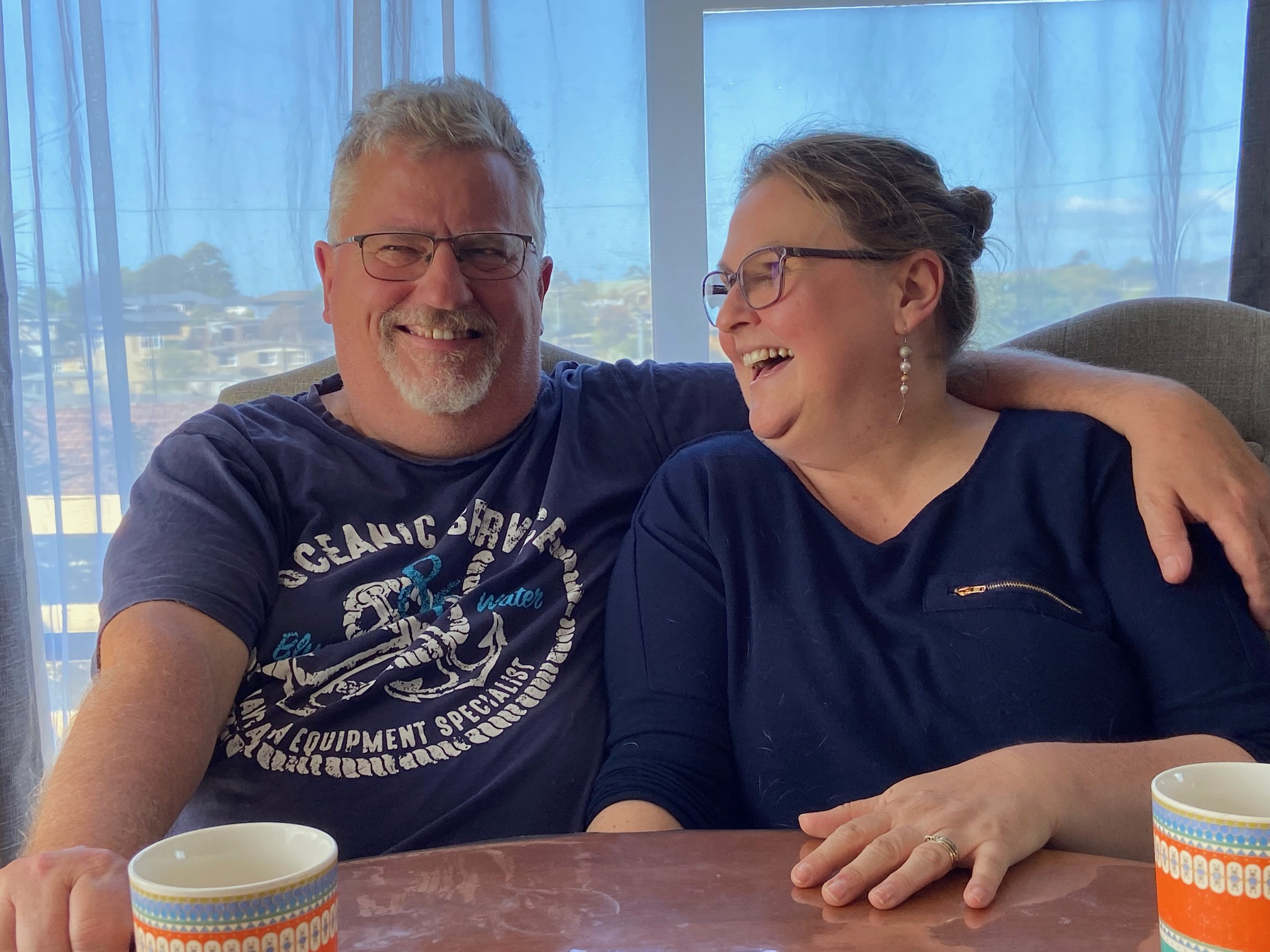 By Paul O'Rourke
Dale and Belinda Saunders had to move out of their church-supplied home and hand back a car after choosing to leave their roles as Salvation Army officers to become full time school chaplains.
Given eight weeks to find other accommodation, the couple could not find a rental property, opting to buy their first home since selling up in Hobart in 2012 to serve the Salvation Army.
They moved into a modest 1970s home five weeks ago, a couple of months after starting as school chaplains.
Despite the stress of leaving the security of the Salvation Army to change careers in their fifties, and moving into an older home that needs some work, the Saunders are excited and fulfilled in their new roles, assured of a clear calling to students, teachers and their families.
Dale is chaplain at Latrobe Primary and High Schools, while Belinda works between Nixon Street and Hillcrest Primary Schools. They started on September 1, having served the Salvation Army for eight years in Victoria and for the past 18 months in Devonport.
Both felt the "niggle" of change early in 2022 after seeing the impact of Devonport Chaplaincy in serving local families.
"We are incredibly grateful to have served the Salvation Army which does such amazing work and provided us with such extraordinary training and valuable experiences, but we both missed working with children, which our Devonport church didn't have," Dale said.
"We were concerned that in Devonport a lot of what we were doing in the social welfare space was giving a hand out and not a hand up, and we wanted to make more of an impact in the local community, particularly among families."
Dale said he had an unrelenting prompting to call Devonport Chaplaincy CEO Andrew Hillier.
They met on several occasions to discuss the chaplaincy role before Dale started doing volunteer chaplaincy at Latrobe High School and helping with the Devonport High School breakfast program alongside the chaplain there.
A week after volunteering at Latrobe, a student and his grandmother were tragically killed in a car accident. Dale was able to draw on his pastoral skills to help with the funerals and comfort grieving students. The school community took notice of the capable and compassionate minister.
Belinda felt a similar unsettledness in her church role, her passion to work with children and families going unrequited.
"We have had a lot of experience with families, from running playgroups, school holiday programs and working in youth residential facilities and the foster care system, to doing a stint at the children's court, drug and alcohol rehabilitation, and serving the homeless and aged," Belinda said.
Dale and Belinda have also raised three children of their own and been surrogate parents and confidantes and models to many others.
While students, parents and teachers are understandably wary of the new chaplains, both Belinda and Dale say most people have been welcoming and thankful for their sincere efforts to support and serve. Coming from the Salvos also doesn't hurt, the church's brand familiar and comforting.
"It takes time to build relationships and gain trust," Belinda said.
"We seek to be a stable, consistent adult in a child's life; the good cops within the school, supporting students, families and teachers.
"I'm enjoying the role, although it's challenging when I'm an introvert, but I love that every day is different," Belinda said.
"Getting up early every morning for breakfast club is vicious, but once you are there, the kids remind you that they need you, and you are making a difference."
Belinda runs craft and cooking classes, plays board games and gets beside students who need a little extra time and care.
Dale takes a more informal approach, roaming the playground and responding to specific needs as they arise.
Most students have been quick to warm to the softly-spoken grandfather-like figure who's a good listener, never judges, and has a lot of experience and wisdom.
The couple, who have been married for 30 years and who may now go their separate ways Monday to Friday, say the issues at the schools they serve are familiar: family breakdown, financial pressures, poverty, abuse and neglect.
There's a lot to talk about over dinner and while renovating the house and caring for their two dogs, two cats and one child who has moved in to save some money.
"There are kids who only eat breakfast when breakfast club is on," Belinda said.
"You see kids who come to school without breakfast and no lunch.
"Kids who are exhausted from living in noisy, overcrowded homes where there is violence and no bedtime.
"There's a lot of pressure on families from cost-of-living stress.
"Our job is to connect families with relevant services that can help them."
Helping, listening and connecting is second nature for Belinda, a sixth generation Salvationist, a movement known and loved for getting down and dirty with hurting humanity.
The Saunders have experienced their own share of pain, while sharing the pain of others.
Belinda's line of linked forearm tattoos are a reminder of the struggle and the hope: A treble clef for the joy of music. The words "Just Breathe", a reminder to slow down and take stock. An arrow pointing to the cross, her anchor. A dandelion with its exquisite, soft flowers sent forth on a puff of wind. Three butterflies, symbolising friends, the Trinity, their three children.
There are many times when Dale and Belinda have to remind themselves and those in their care to slow down and just breathe.